Promotional Offers Monday
It is the New Year and we are probably all trying to start it off right!  Promotional Offers Monday is about letting you know about some good offers that are out there and providing you an opportunity to help out my website by using my links listed to sign up and give back.  If you get the impression that I don't need to take advantage of promo opportunities because I present the information on this page, you would be mistaken.  I love love helping you, but I want to help myself too.  The one thing you should know is I use these services myself and I like them so much for how they help me achieve my goals that I want you to use them as well.
Online Shopping?
Cashback portals are excellent way to get cashback on your online purchases.  The aggregator Cashback Monitor list portals that give best offers for cashback, travel miles/points, credit card points, or other points.  You enter the store you plan to shop at, and then simply click link with best offer and sign up (if necessary).
For example, this week, I bought a Sony TV on sale for 25% off from Best Buy and used the shopping portal Ebates for an additional 1% cashback.  Also, I stacked this with 2 Chase offers from December for 10X points on up to $400 when using Chase Sapphire or Freedom credit cards.  I bought 2 Best Buy gift cards for $400 each using the Chase Sapphire Preferred for one and the Chase Freedom Unlimited for the other.  Together that's 8,000 points and, in cashback terms, points are worth ¢0.01, that's worth $80 (8,000 × 0.01). 

Chase 10X at Best Buy Jan 15th – Feb 4th
Chase decided to run the 10X points on up to $300 again at Best Buy, but this time I only purchased 1 Best Buy gift card for $300.  The reason was so that I still had a slight balance that I would be able to get price protection in case the TV went down further in price in the next 90 days. I am afforded that perk by using Chase Freedom Unlimited to pay for the purchase.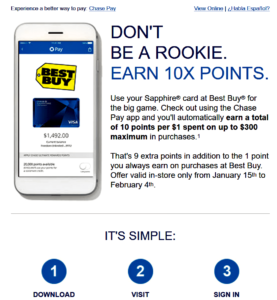 No doubt it was still an expensive TV by my standards, but if we net this out it's money I didn't have to spend otherwise.  So, $500 off from sale, $15 cashback from shopping portal, $110 from points cashback is $625 savings.  That is definitely worth a few minutes of my time to do.
How to Get Cash Back on Online Shopping
Here are some portals I use quite often:
Use these links to sign up and get started.
Ibotta has promo that if I refer 10 friends I can get $100.  My reader friends, I would like to introduce you to Ibotta.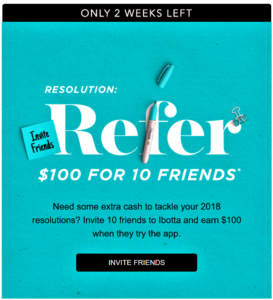 Acorns Anyone?
There is service called Acorns that rounds up your purchases to nearest dollar and when you hit $5, it triggers that amount to be invested in diversified stock portfolio you select.  Easy-peasy, right!
I invest on Acorns and encourage you to invest.  I know little investments can turn into a lot.  I started in August 2016 and have set aside $1295.

Here is a spectacular promo to help you and I towards our investment goals.  Which of you will invest like me this year?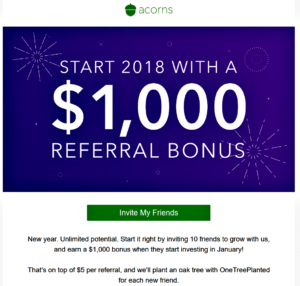 Little Nuggets
Acorns has a nice little feature called Found Money, where they have partnered with several companies that can help jump-start your investing as they put a percentage of purchase back into your account when you shop from Acorns to destination store.  For example, notably, Nike invest 5%, Blue Apron $30, Jet 2%, Apple Music $5, Old Navy 2%, and so on and so on.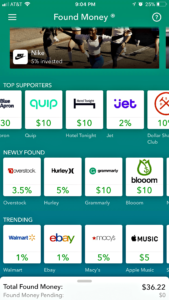 Rack Up Points/Miles Stash
I used the Chase Sapphire Preferred to purchase aforementioned Sony TV.
Here's some great cards to sign up for now that give great bonuses if spending threshold is hit within defined time frame.
Starwood Preferred Guest Business
American Express Gold Business
AAdvantage Aviator Red World Elite
Keeps Dibs On Your Credit
While you are shopping so are the criminals looking to imitate you.  There is greater protection you get by using a credit card versus a debit card, but you can keep eye too. Use a free service like below:
They'll give you your credit score and monitoring alerts on any activity to your credit.
I have been doing more to manage my credit cards bills by using Debitize.  It will set aside the money from your account as you spend on credit cards and then schedule and pay the bill when it's due automatically.
In Closing
Further information is mingled throughout this post with more detailed information from previous blog postings.  I personally use every single promotional offer on this post actively in order to help me save money, invest, get award travel, and monitor my credit.  These offerings do provide referral bonuses to me (sometimes for you as well) in form of cash or points when you from my readership sign up and use them as well.  Your support helps to make this blog happen and I thank you in advance for helping.