Motif Investing
I wrote in my blog "What Is Loyal3" explaining my philosophy that investing a little at a time over time can turn into a lot despite how little you might have to invest. Along those lines, I also use an online trade platform called Motif Investing which allows you to pick a basket of up to 30 stocks based around investment themes or ideas like High-Yield Dividends, Caffeine Fix, or you can create your own and these collections are called a motif. When I first signed up, I was more interested in creating my own motif of stocks that I had researched and thought were undervalued and I then purchase that motif.
The amount initially required to invest on Motif Investing in any of its motif is a minimum of $250 and the trade commission fee is $9.95 per trade, unlike the online trade platform LOYAL3 where you had no commissions; however, you don't have as many stock choices as on Motif Investing. Motif Investing also works with the concept of fractional shares and allows you to invest in broad range of stocks you might not have been able to otherwise for a pretty low commission fee.
Let me give you a scenario why it can be beneficial to use Motif Investing trade platform, if I wanted to invest in Apple (AAPL) and Facebook (FB) and I done it from my normal Vanguard brokerage account, I would not be able to purchase fractional shares and if purchasing even small lots of whole shares, I would be charged a commission fee of $7.00 for each trade of Facebook and Apple ($14.00), if I made less than 25 trades in a year; otherwise it would be $20 per trade; whereas, if I added Apple and Facebook to a customized motif I create, I would just pay one commission fee of $9.95 for the trade. That saves me a few bucks and if you had multiple other stocks you wanted to buy this would be a tremendous saving and I don't have to wait if I want to invest in a stock is undervalued or on move upward.
I currently own five motif, four created by Motif Investing and one I custom made. I display below those I have for your reference. I am currently profitable as my custom Motif is smoking the S&P 500 benchmark for now, but I have also done well with the Motif Investing themed motif on its site by basically sorting the motifs available by which ones were down the most on the year and buying those. Case in point, I had the Precious Metals motif and it turned around nice penny (profited $530 on $697 investment), and I've recently bought into biotech which has been a laggard this year. The other I bought using this strategy and I'm waiting for big turnaround is on oil Black Gold, but I got time to wait and will continue to rotate back into those losers with the gains I have received from selling some if not all of the winners.
Motif Investing checks the box for a tool retail investors can use to invest in their financial future with not a great deal of money.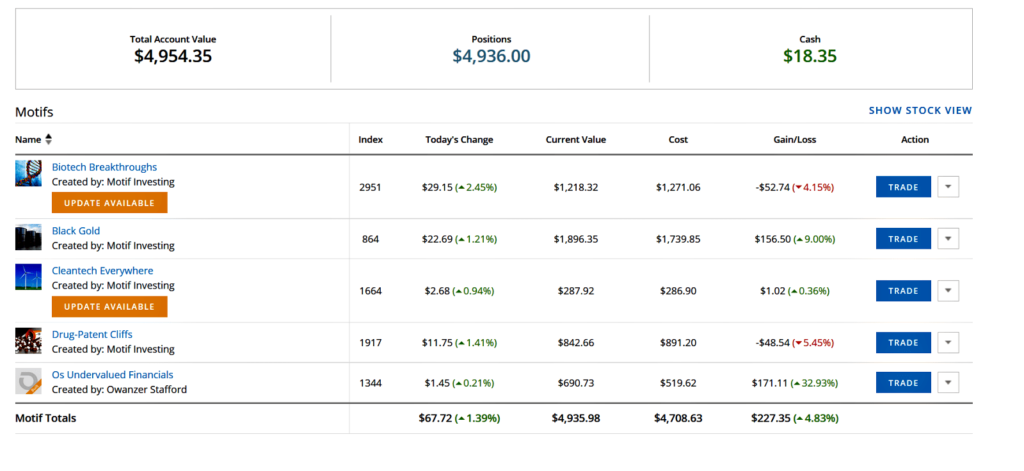 Here is current snapshot as of 1/8/2017 of worse performers and you will notice some of these three of the motif I have purchased.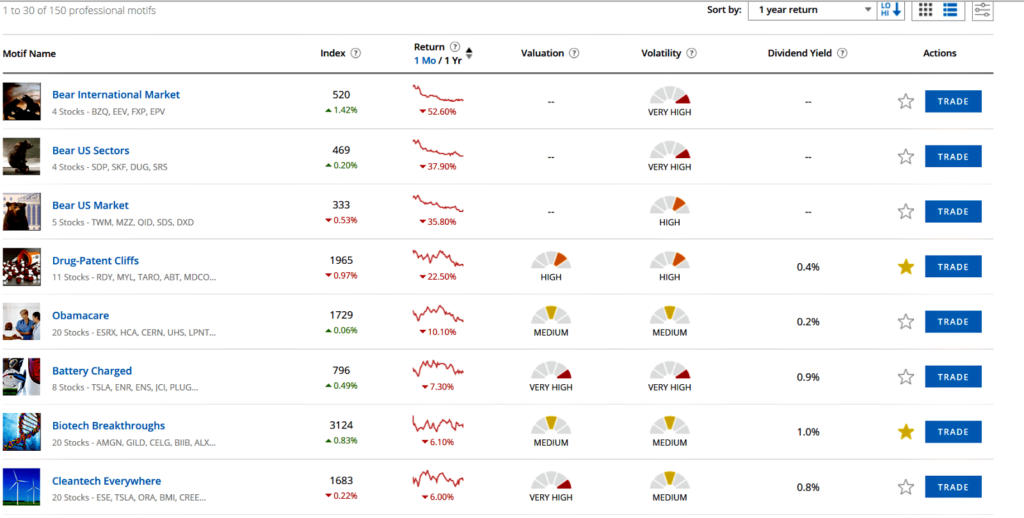 So is this a service you think you can use, if so, kindly visit my Affiliate and Referral link here and find Motif Investing to sign up?
PS: Any readers who are currently using Motif Investing, please share your experience by leaving a comment on this post. Also please be sure share this content to your friends and family if you find it useful. I thank you in advance.
Disclaimer: Financial investments using this and other financial services are subject to risk in that you could lose your entire investment due to the nature of investment exposure to the stock market.